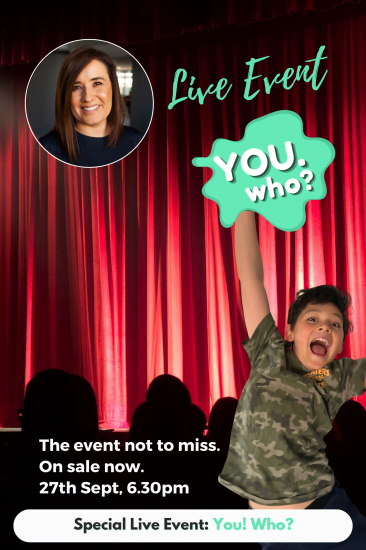 You! Who? The Epic Live Show
This very special You–Who? In person event is designed to be a memorable moment for you and your tween.
In this one hour action packed presentation Michelle will be talking about tween-life, friendships, confidence and communicating with parents. Although we are keeping all the extra bells and whistles a bit 'hush-hush', know you'll be in a gorgeous venue, celebrating life with other tweens who are also navigating this journey. Grab a ticket early. This will be the event of the year not to miss!  
When:  Wednesday 27th September  
When:  6.30pm, door will open at 6pm   
Where:  The Princess Theatre in Brisbane – 8 Annerley Rd, Woolloongabba QLD. It's a gorgeous venue, which will help to make it a beautiful experience for your family.  
Bring your ticket: To make things easy, please bring your email confirmation which has a scannable bar code on it. Seating is not allocated, so come early for a front row seat.
Parking: Don't stress! Parking is right next to the theatre. 
Cost: $35.00 (inc gst) 
You. Who? is designed to be a shared, memorable experience. For this reason, all tweens must be accompanied by a trusted adult. We are super excited to say that we already have tweens flying in from around the country to join us "in person" for the live show. 

Yes, you can join online. This year we have decided to open this event up online, knowing we are only going to be offering one single event in Brisbane. If you'd like to see the live show in your region, please let us know. Next year, with the help of sponsors, we hope to be able to bring the show throughout Australia.  
Tweens are so impressionable. They are open-hearted and ready to learn from trusted adults. Parents, I want you to seize this moment right now and in doing so, give your child the best possible start to adolescence. Thank you for having me, and my team, in your home.