Over my 25-year career, I have never witnessed the level of pressure that I am seeing in schools right now.  The lack of predictability and social cohesion experienced throughout the pandemic, placed on top of an overloaded curriculum, excessive testing and monitoring of teacher performance are reaching a boiling point. Almost on a daily basis, while in school staff rooms and private meetings, I think about how we can partner with educators during this time. 
If you were having coffee with your child's favourite teacher (or high school teachers) today what would you want them to know?  I personally want great teachers to know that they ARE contributing to kids' mental health in profound ways. The weight of a national "mental health crisis" doesn't rest on their shoulders. I want them to stay in their lane, know their value and rest in their contribution. It is more than enough.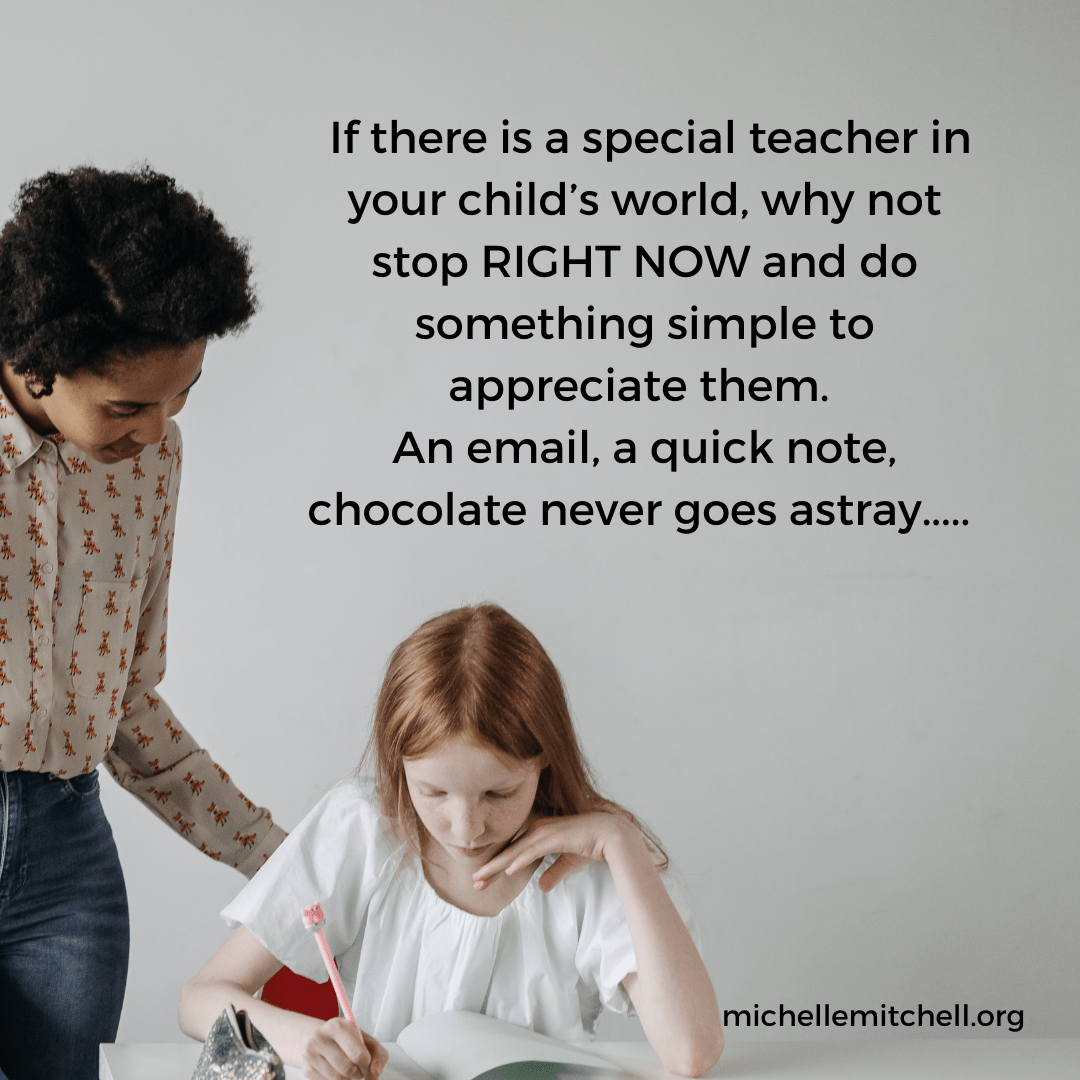 If there is a special teacher in your child's life, why not STOP TODAY and do something simple to appreciate them. It doesn't have to be fussy or extravagant. Small gestures mean a lot to them. They always meant a lot to me when I was a classroom teacher. I clearly remember the letters, little gifts or kind words that made the tireless work feel worthwhile. I've even kept a small box of special notes and gifts because they meant so much to me. 
Below I've penned some words with the help of a mum I spoke to today which I feel sums up what teachers mean to families. Their merit reaches far beyond academic outcomes. It's who they are, not what they do, which matters the most. I'd like all the great teachers in the world to know that it is THEM that makes the difference, and that "doing more" does not necessarily bring better outcomes for kids. 
Dear Teacher
I was really worried about year 7 because as a family, we don't have many good memories of school. Mornings have always been a struggle. It's been an uphill battle to get my girl out of bed, dressed and in the car. It sounds crazy but mums like me worry about their kid's relationship with their teachers a lot. If there is no "bond" it takes its toll on our home too. If I am honest, I didn't know if I could handle it if high school became more difficult than primary school.
This year has been so different, and I do owe a lot of it to you. I don't quite know what you have done to have such an impact on my child, but you have. Even though I've only met you briefly at the beginning of the year, I feel like I know you – very well! My daughter is always parroting something you said or did. You are part of our home. Thank you for seeing my child in the sea of faces you care for each day. Thank you for making the transition just that bit easier, and showing her the ropes of her new environment.
I know she has a lot of teachers, but you are the most she talks about the most. When they have a teacher they like, who understands and looks out for them, their whole world changes, my world changes too! Thank you for being good at your job. It shows. Thank you for bringing out her best. I know it takes a special person to be a teacher. God knows I couldn't do it! That special person is you. Regarding her schoolwork, I want her to do her best, but when you have had a child who hates learning, her showing up is as good as an A+.
Emily, mum of Tabitha